How to Unlock Amazon Account from Suspension? – Step by Step Guide, FAQs & More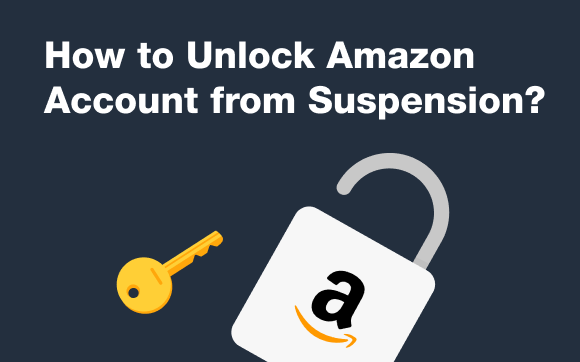 Has Amazon also locked you in suspension from your account? If so, then this is a question you would be dying to ask: "How do I unlock my Amazon Account from Suspension?"
And guess what? Amazon is a profitable channel for both online and offline retailers and customers, recognizing a paradigm for Amazon sellers and buyers, and one that requires them to follow the very specific guidelines of Amazon.
To be very honest, Amazon does not compromise in providing the best for its customers. If you don't follow the Amazon regulations, your account WILL be suspended.
But don't worry, here's everything you need to know about unlocking your suspended account on Amazon.
So without further ado, let's get started.
Why Would Amazon Lock My Account?
Okay, you must be wondering:
How can I unlock my Amazon account from suspension?
If you want your Amazon account unlocked from suspension, you first need to understand why you got locked out in the first place.
Keep reading and you'll find out.
Believe it or not, hundreds of Amazon users tweet their Amazon accounts that have been suspended. In fact, representatives of Amazon are openly claiming that Amazon has automatic triggers that can suspend accounts.
Here are a few reasons on your Amazon account that can trigger an automatic suspension.
1. Suspicious Activity
Do you know what defines Amazon from other online stores?
Amazon believes in a safe environment for both, sellers and customers, and invests in the security of its retail platform.
With that being said, account hacking is a major concern for Amazon when it comes to the seller's legitimacy. Fact: Around 100 vendor accounts were hacked in 2018!
Amazon's anti-fraudulent crackdown has become a necessity to protect the platform's reputation.
So, if Amazon detected any sort of suspicious activity on your account, it's a good enough reason for the platform to disable your account. And for what it's worth, Amazon is doing to protect you.
2. Violation of Terms and Policies
Let's get one thing straight – suspensions definitely happen if you're caught trying to game Amazon.
Perhaps unsurprisingly, one of the most common reasons for Amazon account suspension is a violation of its terms and policies.
Yes, it's true! But how?
Rather than one set of product rules and regulations, Amazon has category-specific terms for specific products which include intellectual property infringement.
Intellectual property law covers patent enforcement, trademarks, and copyright enforcement. Usually, when a rights owner makes an infringement claim against an Amazon Seller, Amazon first notifies the complaint's
seller.
Usually, Amazon will terminate the listing for that item and advise the dealer to negotiate with the rights owner to withdraw the dispute.
Needless to say, failure to negotiate successfully with the owner will cause your Amazon account to be suspended.
3. Abuse of Federal Regulations
If you take a look at the Restricted Products section Amazon Central Policies, the regulations vividly mention:
"The sale of illegal, unsafe, or other restricted products listed on these pages, including products available only by prescription, is strictly prohibited."
Amazon strictly adheres to product sales in accordance with the target country's federal laws and resists any sort of federal abuse on its platform
"If you supply a product in violation of the law or any of Amazon's policies, including those listed on the Restricted Products pages, we will take corrective actions, as appropriate, including but not limited to immediately suspending or terminating selling privileges, destroying inventory in our fulfillment centers without reimbursement, returning inventory, terminating the business relationship, and permanent withholding of payments. The sale of illegal or unsafe products can also lead to legal action, including civil and criminal penalties."
4. Exploiting Customer Reviews
Did you know that around 95% of shoppers read customer reviews before purchasing anything on Amazon?
The reason: Amazon does not compromise on false customer reviews.
Let me take a wild guess. You're probably wondering…
"Wait! I never tried to manipulate customers for positive reviews!"
It's alright to ask the customer to leave the review. But many of us get creative on how we do it.
For example, if you write something like "Please leave a review if you are satisfied with our services" counts as manipulation.
Boom! It hits you like a ton of bricks!
5. Deceitful IP Addresses
As much convenient Amazon is to its customers, Amazon strongly promotes fairness among its sellers as well.
Good News: Amazon is interested in preventing unfair competitive advantage across all categories.
Sharing inventory, suppliers, and locations or sign-ins won't be a good idea if you have two accounts doing more or less the same work. As a matter of fact, Amazon has a strict policy for its clients regarding multiple accounts.
Amazon monitors for impermissibly linked accounts and often identifies Amazon sellers violating this policy by associating accounts using the same IP address or associating accounts based on a Seller's use of the same bank info, email, Tax ID, or physical address.
"Operating and maintaining multiple Seller Central accounts is prohibited. If you have a legitimate business need for a second account, you can apply for an exception to this policy."
6. A Large Number of Product Returns
Amazon's performance metrics for its sellers are pretty tight. Amazon is likely to suspend your seller account if you score low for customer feedback, cancel too many orders, or don't have timely shipping.
Amazon's shipping costs in 2017 alone checked in at about $21.7 billion.
And if your sales or purchases are losing money over shipment, Amazon will most likely suspend your account.
For sellers, here are some of Amazon's minimum metrics for your performance:
Order defect Rate – <1%
Pre-Fulfillment Cancel Rate – <2.5%
Late Shipment Rate – <4%
Should I Panic?
Okay, by now you'll probably be wondering, should I start panicking or not.
Look, here's the thing: there are three possible scenarios.
Suspended: Amazon will most likely listen to your appeals and may restore your account.
Denied: Amazon has already rejected your request but you can still submit a revised appeal.
Banned: Amazon has completely closed your account and you cannot use its services anymore. Your appeals will not be entertained anymore.
So, unless you are banned from Amazon, you can still restore your Amazon account and continue using its services.
What Are the Possible Ways to Unlock My Amazon Account?
By now you've established what you could have possibly done to prompt Amazon into suspending your Amazon account.
But hang on a minute?! How do I unlock my account?
The ugly truth is, it's going to be a little challenging. You are going to need persistence and most importantly, patience.
But the good news is, we are going to take you through the whole process.
What Does Amazon Need to Verify To Unlock My Account?
But before we go ahead, Amazon will ask you a few things when they respond to your request for your Amazon account to be unlocked.
Credit Card Statements that you used in Amazon transactions with your billing address on it.
A copy of your ID, bill or credit card details.
If the information you originally entered on your Amazon account is correct, by giving these details there should be nothing to worry about and it will solve your Amazon problems quickly.
But be aware that there is little chance that your account will be unlocked if you have entered false information.
How Can I Unlock My Amazon Account?
Amazon provides sellers with 17 days to lodge an appeal that can be sent through the link provided in the email notice of suspension.
But hang on a minute! Sending an appeal does not guarantee that the privileges of your seller will be restored, although Amazon promises to carefully review each appeal.
And here's the interesting part: Your Amazon account can NOT be unlocked by regular customer service representatives. You'll need to formally request accounts specialist.
Like we mentioned earlier, you need to be patient and cooperate with Amazon management to get your account reinstated.
Here are a few ways you can contact Amazon to get your account unlocked.
Submitting Documents Online to Your Account
This is a relatively straightforward yet genius trick without actually having a conversation with the management.
Unfortunately, this method is not for Amazon Seller accounts.
Nevertheless, here are a few steps that you can follow to submit your documents online to your Amazon account.
Find the confirmation email of your last order dispatch and click the link to access your account. Most of your accounts should be viewable (except for your orders).
Go to a product and try to buy anything
The following message should show that your account is locked and your orders are on hold, but you can upload a copy of your latest statement directly.
Contacting Amazon Via Voice Call
Amazon highly invests in its customers and exercises strong will to satisfy the parties involved in the business.
With that being said, contacting an Amazon Supervisor or an Accounts Specialist on a voice call is the best option to get your account unlocked.
Note: If you're a US customer, you'll most likely be called by account specialists, but it's rare if you have an international account.
(US accounts) Call Amazon on + 1 (206)-266-2992.

When you get to the answering machine: Ask for a supervisor and provide verification details when asked

Explain that your account was blocked by error after you purchased products and that you need an account specialist to review your details and restore your account.
Connecting to Accounts Specialists Via Chats
Another possible way to contact an Amazon Supervisor or Accounts
Specialist is by contacting them on Amazon Contact Us forums.
Log in to an active Amazon account and go to Contact Us forum.
Ask for a supervisor and provide verification details when asked.
Explain that your account was blocked by mistake after you purchased products and you need an account specialist to review your details and restore your account.
Contacting Amazon via Email
If you have an Amazon Sellers account, Amazon might have asked you to appeal to an email with a "Plan of Action" detailing how the issues that led to their suspension are expected to improve.
It is very important for sellers to put in their original request a lot of time and energy because there is no guarantee that Amazon will grant you the opportunity to submit a second updated proposal.
First, you need to investigate why Amazon has suspended your Seller account and what you need to do in the future to prevent such actions.
Next, identify in your appeal the reason(s) for suspension.
Take responsibility and recognize the customer's harm.
Do tell Amazon that you are committed to delivering amazing customer service and you realize that selling on their site is a privilege.
Don't criticize the quality process of Amazon's product.
Your plan of action should be thorough in order to increase your chances of a successful appeal. The more you convince Amazon, the better your chances are to get your Amazon account unlocked.
Using a link shortener service is an effective way to boost your traffic.
How to Prevent Locking Your Amazon Account in the Future?
If your appeal is influential and the privileges of your Amazon sellers are revived, you will want to do everything you can to avoid future suspension.
Here are some practices that will help you track whether you meet Amazon's seller standards or need to improve your practices.
Password Protection
Account phishing is a major issue for Amazon regarding the credibility of the seller.
Here's a clue: Amazon wants to protect your money and business.
A strong password will not only help you keep your Amazon account safe but also help Amazon make its platform much more reliable
Take the usual precautions to avoid this as well: regularly change your
password and set up two-step verification on your Amazon account to make them more difficult to crack.
Improve Your Performance on Amazon
The best way to avoid any sort of suspension from Amazon is to improve your performance on Amazon.
For starters, check your reports from Amazon on a regular basis. The data in your reports on Return, Imperfect Orders, and Feedback will give a clear sense of whether you consistently meet the performance goals of Amazon.
In addition to that, keep an eye on the delivery of your order. Unless you're an FBA seller and Amazon handles your shipping and delivery, you'll want to make sure customers report on-time shipments and properly packaged goods to avoid negative feedback or a high rate of late shipment.
Final Verdict
Anti-fraud measures taken by Amazon have good reason to be in place, although they may be disturbing to honest, legitimate sellers.
Following the above guidelines, however, can help you restore your Amazon account and avoid future suspension.
Here's a big idea: As long as you comply with Amazon's rules and regulations and focus on your platform performance on a consistent basis,
Amazon will work closely with you to restore your account.
If you still have any more questions or need help to get your Amazon account restored feel free to contact us in the comments section.