What is Frustration Free Packaging – Complete Amazon Guide, Benefits, Feedback & More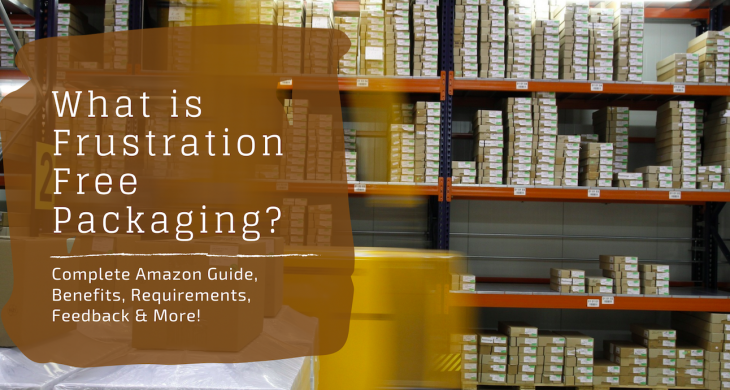 Amazon's Frustration Free Packaging program has been around since 2008, but sellers still don't realize just how beneficial it can be to their business.
If you don't know much about this program, you've landed on the right post!
Signing up for this program is very simple and the benefits that come with it are not to be missed out on.
Let's go through a step-by-step, complete guide about the Frustration Free Packaging program to learn how and why you should sign up for it.
What is Frustration Free Packaging?
Frustration-free packaging basically means "easy-to-open packaging".
Unlike traditional packaging, it does not include layers and layers of wrapping plastic, bubble wrap, dozens of metal twist ties, or packages within packages, while still keeping the actual product safe and sound.
A product with frustration-free packaging is likely to have only a single box for the product itself, and maybe another smaller box for additional tools and that's it.
Another great thing about this kind of packaging is that all materials used in it are 100% recyclable so it uses less waste. This means that there are no styrofoam and no clear-plastic inlays, making packages smaller and easier to unpack.
However, the usage of lesser packing materials does not mean in any way that your product would not be safe.
Frustration-free packaging uses just the right amount of packaging to keep your goods from getting damaged, while also not making it a nightmare for consumers to unpack!
Why Did Amazon Introduce This Program?
Amazon introduced its 100% recyclable frustration-free packaging back in 2008 with the intention to delight consumers with easy-to-open packaging and also to help the environment by minimizing waste.
In a recent statement, Amazon said that Frustration-Free Packaging is to "reduce waste, lower cost and delight customers with easy-to-open, 100% recyclable packaging."
Amazon has partnered with thousands of manufacturers to offer lab-tested, risk-free packaging designs to sellers in order to improve their packaging functionality and reduce waste throughout the supply chain.
Since 2008, Amazon has come up with several innovative packaging ideas like replacing shipping boxes with flexible mailers for small items, introducing 100% recyclable mailers, and optimizing box sizes according to the product size and weight.
According to Amazon, these efforts have successfully eliminated over 244,000 tons of packaging materials. They saved almost 305 million shipping boxes in 2017 alone!
Amazon FBA has firmly cemented itself as one of the most popular and alluring ways to earn off the internet.
We have compiled a complete guide where you'll learn all you need to know about FBA, what it is, how to use it, and where to start. CLICK HERE to give it a read.
What to Do If You Don't Qualify for the Frustration-Free Packaging (FFP) Program?
In recent years, very few sellers are able to get into the FFP program. Rumors are that Amazon is considering discontinuing the program entirely or maybe overhauling it.
It can be extremely frustrating to be a new seller and not qualify for the frustration-free packaging program. Luckily, however, there are a number of other options that you can look towards if you don't qualify.
FBA Small and Light
You can opt for the Small and Light program that is designed to ship low-cost and small products to your customers with ease. It's very easy to register through a six-step process.
This is a great program you can sink your teeth into if you're selling the types of products that could be eligible.
Subscribe and Save
If you intend to sell products that a consumer would buy on a regular basis, then you can definitely opt for the Subscribe and Save program.
Examples of such items include groceries, cleaning products, health and beauty items, etc.
Customers benefit from the program as they save money on regular purchases and you get a reliable, repeat buyer.
FBA Export
If you intend to sell your products internationally, it can be quite an endeavor to set up an online store in every region's marketplace.
With FBA Export, you don't have to do so. You can fulfill international orders with ease straight through US-based fulfillment centers.
The coronavirus global pandemic forced the world to adapt to it. Thus, as a global e-commerce company, Amazon also encountered daily operations and execution problems.
Find out how Coronavirus Affected the Amazon Marketplace in our complete guide HERE.
Why Should an Amazon Seller Use It? – Benefits of Frustration Free Packaging
By now, you must be thinking that alright, but what is in it for me as an Amazon seller? Why should you get frustration-free packaging for your products?
Well, frustration-free packaging may not benefit sellers directly, but it has been known to boost sales simply by offering a hassle-free unpacking experience to consumers.
In fact, this program was mainly designed to improve customer experience, and in a competitive space like Amazon, sellers who offer frustration-free packaging definitely get an edge over those who don't.
Let's take a look in detail at how this program benefits both the seller and the buyer communities:
Benefits to Customers
Like most of the other Amazon initiatives, this program is also designed to keep the consumer in mind.
Frustration-free packaging wants online buyers to have a better buying experience when their product arrives at their doorstep. First of all, they wouldn't need a knife or box cutter to cut down layers of packing materials or to open multiple boxes.
This would eliminate the "wrap rage" that often comes with unpacking items purchased online.
Moreover, while many consumers love the convenience of having their favorite items delivered to their doorstep, none of them like the garbage that comes with it in the form of excessive plastic and cardboard.
Frustration-free packaging eliminates these materials by promoting the usage of items' original packaging. It also uses new, highly sustainable packaging materials that don't need additional layers of wraps to keep the enclosed items safe.
Most importantly, any kind of wrapping materials or boxes used in frustration-free packaging are completely recyclable so the program actually promotes 100% waste-free packaging.
This ensures that when an Amazon buyer receives his goods, he doesn't receive a pile of undesired garbage with it too.
Lastly, the chances of damage to the product during transit are also largely minimized by frustration-free packaging. According to Amazon, this packaging uses industry standard 1STA-3A for single parcel deliveries.
This test simulates the shipping and delivery procedures in order to test items for a series of drops and vibrations.
Benefits to Sellers
Amazon discusses at length how the Frustration-free Packaging program is great for consumers as well as for the environment, but they don't mention is how it actually is great for your sales as an Amazon seller.
In my selling experience on Amazon, I've learned that possibly the most important sellable factor on their platform is product reviews.
They build customer trust, make you stand out among competitors, boost your sales, improve the perception of your product, and improve your ranking on Amazon!
Luckily, frustration-free packaging can help you get more of these valuable product reviews.
If you offer frustration free packaging to your buyers, they'll know that you care for your customers and after a delightful unpacking experience, they would be very likely to leave positive reviews for your item.
Moreover, lesser packaging materials don't just improve the consumer's buying experience, they also save you from having to spend more money on lots and lots of wrapping materials.
Cheaper packaging materials reduce costs of transportation and labor and minimize waste in your supply chain.
In addition to better ratings, there are other perks that come with this program.
For instance, sellers who use frustration free packaging enjoy additional Amazon merchandising and promotion as well as placement opportunities.
Products with frustration free packaging also have lower return rates due to the high-quality, lab-tested packaging materials used.
Are you worried about having to manage your advertising campaigns and fear that you might run the risk of ignoring your products if you focus on marketing too much?
You don't have to worry about a thing! Amazon gives you the option to use their Campaign Manager tool in their PPC model.
Check out our step-by-step guide on how to make the most of this tool HERE.
How to Get Started? – Enroll Your Products in Frustration Free Packaging Program
Getting frustration free packaging for your items is a pretty simple procedure. In order to get started, you have to first get your products approved by Amazon.
The great thing about this program is that it is completely free. All you need to do is to just submit samples of the products you want to be reviewed
After that, Amazon will check these items for the certification evaluation. You will receive the initial evaluation results within a few days. The entire process usually takes less than 2 weeks.
After that, sellers are required to complete a simple workflow for the products they want to get certified and that's it!
You can click here to learn more about the workflow and requirements of the Frustration Free Packaging Program.
Did You Know: Shortened Link drives traffic with specific calls to action while tracking which link gets the most clicks or conversion.
Final Thoughts
In a nutshell, frustration-free packaging benefits everyone: the seller, the consumer, and the environment.
It is a win-win situation that improves consumers' buying experience on Amazon and in turn, earns the sellers some valuable product reviews and seller feedback.
Frustration-free packaging has become quite popular on Amazon since its launch in 2008. Some of the buyers even prefer products that come with frustration free packaging over those that don't.
Keeping this in mind, you can say that this program has somewhat become a sellable factor!
Nonetheless, it is a great idea to get your items certified for this program to do the environment a favor and cut down costs of excessive packaging materials.
Check out our blog to find out more about packaging and selling your products effectively.