Key Components of a Great Listing Across All Marketplaces – Detailed Guide, Advice & More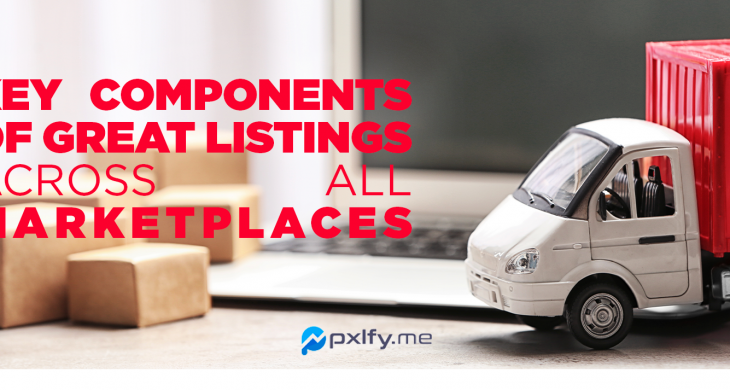 "Simplicity is the key to brilliance." While Bruce Lee wasn't referring to the key components of a great marketplace listing, he probably wouldn't be able to deny the relevance.
Forget the blogs telling you the latest tips, tactics, and hacks for creating eCommerce listings. The best and most effective listings have just eight key components; once you've mastered them all, you can replicate success across your products time and time again.
And the best part? We've tailored these components to make them compatible and effective across all marketplaces and fast shipping programs, meaning that you don't have to spend time editing listings to make them comply with Walmart, Amazon, or eBay.
What is an Amazon Listing?
An Amazon listing is the product page for an item you sell on the Amazon marketplace. It contains all the details consumers require to make an informed buying decision. This includes specifications, features, images, and more.
Naturally, the more detailed and clear your Amazon listing is, the higher chance you'll have of securing customers.
The Key Components of a Great Listing
A great listing template improves search ranking, increases clicks, boosts conversions, and repeats these successes across products and platforms. It follows a simple and repeatable format, consisting of eight key components.
1. The Right Product
First, you need the right product, which depends entirely on your business, audience, intended profits, and storage and shipping methods. However, regardless of whether that product is big, small, expensive, cheap, popular, or niche, it must generate the following:
Profit – money left after sourcing, storing, shipping, and selling costs.
Demand – regular sales to keep your business afloat
Joy – your passion for the product, the profits, or online selling in general.
2. An Informative Title
You want your marketplace listing title to be attention-grabbing, engaging, and click-worthy, but more importantly, you want it to be informative. Shoppers and marketplace search engines must be able to quickly read and understand your title to decide whether it's relevant to their search. This is achieved by being:
Short and sharp, consisting of between 50-75 characters
Descriptive, using keyword research to identify the best descriptors; and
Consistent, following the recommended style of:
Brand + size + defining quality + item name + style + pack count (if applicable).
Avoid using special characters, all capitals, or symbols – these make titles difficult to read and easily mistaken for spam.
3. Informative Media
The first thing shoppers are drawn to when they click your listing is your product media. This includes the feature image alongside any gallery images or videos.
A great listing uses this as an opportunity to sell the product and its benefits by including various high-quality images and videos of the product, its use, and different angles.
Each marketplace has its own image requirements. However, the following guidelines ensure that your images comply with them all:
Maximum 1 MB size
JPEG format
1,600-pixel dimension across the longest edge
At least 1,000 dpi
A solid white background, with the product occupying at least 80% of the image area
No borders, watermarks, text, or other image alterations.
Tip: Include videos and 360 photographs to deliver a unique customer experience.
4. Competitive Price
The next thing the shopper sees is the price. All of the leading online marketplaces require you to comply with a competitive pricing strategy – keeping your product prices in line with the competition.
We won't delve into the details of eCommerce pricing strategies here other than to say your prices should be competitive but not so low as to prevent you from making a profit. Repricing tools are useful for helping you to achieve competitive pricing while maximizing your profits automatically.
5. Fast Delivery Options
Sitting next to the price will be your delivery options. A great marketplace listing offers customers fast shipping options, including 2-day and, where possible, next-day deliveries.
Ideally, this is prominently displayed via a fast shipping tag. Take a look at Amazon Prime, Walmart Free 2-day delivery, eBay Fast 'N Free, and even Shopify 2-day delivery badges. Not only will these create a better listing template, but qualifying for these programs also boosts your search ranking placement and visibility.
Tip: Deliverr merchants are prequalified for fast shipping programs on Walmart, Shopify, Wish, and more.
6. An Engaging Description
Finally, the shopper will begin scrolling down to your product description. This is your opportunity to sell the product and its benefits while answering any questions the shopper might think. The best way to achieve this is by following the features > information > essentials structure.
Features
Create five short bullet points of the product's key features, including how it solves the customer's problem.
Information
Share more detailed product information, using headers and short paragraphs to provide information on additional features, uses, and dimensions.
Essentials
End with essential information about your shipping and returns policies, and care and warranty instructions.
It's important that your description is easily scannable, allowing users to absorb all essential information before delving into the details.
Ideally, your description should be between 1,000 to 2,000 characters, with keywords evenly and naturally distributed throughout.
7. Great Customer Service
A great listing doesn't end at the description either. Once a shopper has read everything you have to say, they will start looking at what other shoppers have to say too.
Positive reviews, Q&As, and customer photographs are an essential part of any successful listing. While you certainly can't script customers on what to say or the photos they upload, you can influence their opinions by delivering an outstanding level of customer service.
This includes quick response times, on-time shipping, quality products, and regular communication.
8. Branding
Selling via an online marketplace doesn't mean that your listings can't stand out from the crowd with your own branding.
Incorporate your business logo, brand colors, typeface, and distinct photography style to create a branded customer experience that helps customers to recognize, resonate, and enjoy your brand.
Tip: A shortened link is easier for your readers to click, copy, and share in their own post, which can help your content gain organic exposure on social networks.
The Final Component of a Great Listing
Continuous improvement. The most effective marketplace listings are constantly adapting to changing customer requirements.
This means meeting faster shipping expectations, improving product quality, enhancing the customer experience, and continually learning how to be a better seller.
Conclusion
In the end, we must say that if you take things slow and steady, you'll most definitely end up with a great listing.
The important part is to take your time to develop a checklist. This checklist will not only serve to ensure that Amazon's requirements are being followed but also your brand's standards as well.
Lastly, it's important to remember that an evergreen business is always aware of the market's changing trends and requirements. This is why we stressed how essential it is to revisit your listings and make updates and changes regularly.
As long as you regularly update your brand to reflect customer needs and make those changes in your listings accordingly, you'll have a successful Amazon business.
Find more about running a successful Amazon business on our blog.
About the Author
This is a guest post from Rachel Go, who handles content and partnerships at Deliverr. Deliverr provides fast and affordable fulfillment for your Shopify, Walmart, Amazon, eBay, and Wish stores, helping to boost sales through programs like 2-day delivery for Shopify, Walmart 2-day delivery, eBay Fast 'N' Free, and Wish Express.
Deliverr's FBA-like multi-channel fulfillment comes with clear pricing, easy on-boarding and a hassle free experience so you can focus on growing your eCommerce business.