How to Retarget your Amazon Customers on Facebook the White-Hat way – Complete Guide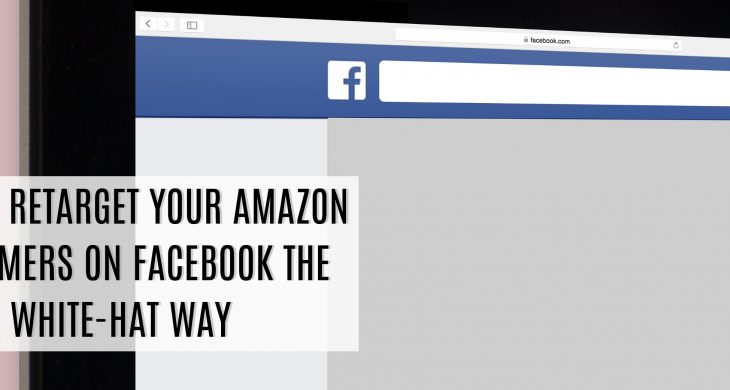 Do you want to retarget your Amazon buyers and build an audience group on Facebook?
Trust me, it is not that difficult, and yes, we'll tell you exactly how you can do it.
In fact, we'll share two methods with which an Amazon seller can create Facebook retargeting ads!
First, let's start by explaining what retargeting actually is and how Facebook retargeting can actually take your Amazon Business to the next level:
What is Retargeting?
Retargeting means marketing your brand to people who have already visited your site or have bought from you in the past. Unlike targeting new audiences, retargeting means reaching out to warmer audiences that are already familiar with your brand.
Facebook advertising is a powerful way to generate traffic to your Amazon product listings. Facebook is home to over 2 billion monthly active users, which provides sellers with a massive user base to advertise to.
Facebook retargeting ads are one of the most effective advertising techniques for Amazon. They allow you to reach out to people who have already interacted with your products or brand in the past.
These people are far more likely to be interested in your ad than people who have never even heard of your brand before!
But how can Amazon sellers build a Facebook audience for their products, and how does it even help their Amazon business? Let's discuss this in detail to find out.
If you're doing a lot of marketing outside Amazon, having your brand URL is necessary.
This can be done using link shortening services like Pixelfy, TinyURL, etc.
How to Retarget your Amazon Customers on Facebook?
When you sell on your own website, you have complete freedom to market and sell your products however you want. On the other hand, Amazon sellers have to struggle a lot to build an external audience while still keeping in with the platform's Terms & Conditions.
For instance, Amazon doesn't even disclose customers' email addresses to sellers!
With such restrictions, it may seem impossible to retarget your Amazon buyers on Facebook, but it's actually not that difficult.
If you are an Amazon seller who has never launched a Facebook ad, or even if you're just looking for some tips to help boost your ad's progress, CLICK HERE.
Without further ado, let's look into the two most effective ways you can retarget Amazon buyers via Facebook ads:
1. Retargeting Existing Amazon Buyers on Facebook
With this option, you can reach out to people who have already bought from you on Amazon. You can retarget them on Facebook with different kinds of ad campaigns.
If someone has already bought a product from you, you can target them with cross-selling campaigns for similar products or also with promotion ads if you launch another item in the niche they're interested in.
People who have bought from you in the past have already shown willingness to spend money on the products you're offering. These are probably the easiest audiences to target and sell to.
The way you can retarget them on Facebook is by creating a Custom Audience by using your Amazon customer list. This list contains demographic details (name, zip code, city, and state) of each one of your Amazon buyers.
When you upload this list on Facebook to create a Custom Audience, Facebook matches this data with their user base and creates an audience based on the resultant matches. You can then set up a Facebook ad and target this specific audience with it.
Let me take you through this process step-by-step:
Step 1: Download your Amazon Buyer List
First of all, log in to your Amazon account and select "Fulfilment" under the Reports tab:
From here, select "Amazon Fulfilled Shipments" under the Sales tab:
Follow the procedure to schedule a report.
We recommend going back at least a month to collect buyers' data; the more, the better, of course. This is because Facebook's match rate is only about 40%, so you should give them large amounts of data to develop maximum matches (10,000+ people ideally).
Download the finished report.
Step 2: Format your Sheet
Depending upon your preferences and the type of computer you use, you'll have to open the downloaded report in either one of the following spreadsheet editing tools:
Excel
Google Sheets
Apple Numbers
There are two changes you need to make to this sheet before you hand it over to Facebook.
First, split the name column into two columns: first name and last name.
Secondly, if you sell multiple products from completely unrelated niches, you should probably split the sheet according to purchased products.
Simply sort or filter your spreadsheet by Product and copy the data into another sheet. In this way, you can create individual spreadsheets for each product type.
Step 3: Turn your Amazon Buyers into Custom Audience on Facebook
Log into your Facebook ad account and select "Audiences" under the Assets tab:
Now, go to "Create Audience" and select "Custom Audience":
Select "Customer File" from the given options:
Go to "Add customers from your own file or copy and paste data" and upload your spreadsheet.
Make sure to match the following fields:
First name
Last name
Zip
City
State
Country
This is it! This is how simple it is to turn your Amazon buyers into a Facebook audience.
However, Facebook takes a few hours (depending upon your audience size) to process your file fully, so be patient.
Now when you create a Facebook ad, instead of targeting people based on their interests, you can simply target this custom audience you just created. This is how you can retarget Amazon buyers on Facebook!
How is this Compliant with Amazon's Terms of Services?
Sellers often ask me this question, and we always show them this statement from Amazon's communication guidelines:
"In general, you may contact buyers (Amazon.com customers) only to complete orders or to respond to customer service inquiries. You may not contact buyers for marketing or promotional purposes (including via email, physical mail, telephone, or otherwise)."
Amazon clearly prohibits sellers from emailing, mailing or calling buyers for marketing purposes but it doesn't really say anything about Facebook ads. It's safe to say that they are a gray so it's best to proceed with caution.
The reason why I still recommend this is simply because of Amazon's highly competitive marketplace. Sellers do all they can to get ahead of each other so stepping into a gray zone may actually be worth it.
However, if you really want to go about the whitehat way to retarget Amazon sellers, it's better to create a "Lookalike Audience" instead of a Custom Audience from your Amazon customer list.
This type of audience is not based on exact matches of your Amazon buyers but consists of people closely similar to your Amazon buyers instead. In this way, you can still target people who are interested in your niche by keeping in with Amazon's terms of service.
2. Retargeting Landing Page Visitors
This is a great way to build new audiences for your product and spread brand awareness.
Drive external traffic to your Amazon page by using a retargeting pixel. You can simply install this pixel on a landing page, generate enough traffic on this page, and then retarget all these people with Facebook ads about your Amazon product.
The second way to retarget buyers on Facebook is by sending traffic to a landing page, tracking that traffic, and then retargeting it with a Facebook ad. All this is made possible by one thing: Facebook Pixel.
Before I tell you how to set up the Facebook Pixel, let's first learn what it is and how it works.
A pixel is a code snippet that is added to a web page to track all the traffic going to that page. If you add the Facebook Pixel to a landing page, it can return all sorts of information to you, such as people who made purchases, people who only visited the site, etc.
However, Amazon's sellers must go through an additional step to use the Facebook Pixel. Since they can't install a pixel directly on their Amazon page, they need to have another landing page to initially send the traffic to. This page will have the Facebook Pixel to record everyone who visits.
Once this page receives at least 100 people, Facebook will then let you retarget these people with ads that direct them to your Amazon product listing. This method is called sending external traffic to your Amazon page, and if you're not already doing it, you need to start now.
Step 1: Set up Facebook Pixel
First, you need to go to the Pixels tab in the "Events Manager" of your Facebook ad account.
Select "Create a Pixel":
Go ahead and create the pixel by clicking "Create" on the box that appears:
Once you're done, you now need to install this pixel on your landing page.
The exact installation procedure may vary depending upon the landing page tool you use, but generally, you have to copy and paste some JavaScript code after editing it.
Step 2: Wait
Once you're done with installing the Facebook pixel on your landing page, it's now time to start sending traffic to this page and let the pixel do its job.
Facebook will automatically create a list of people who visit your page via this pixel. Remember, your list needs to have at least 100 people before you proceed to the next step. (Facebook ensures that advertisers can't target individual people.)
Step 3: Create your Facebook Retargeting Audience
This is the time to convert your landing page visitors' list into a Facebook Custom Audience.
Go to the "Audiences" tab under Assets:
Now, go to "Create Audience" and select "Custom Audience":
Select "Website Traffic" from the given options:
From here, you have the option to either target "All website visitors" (everyone who visited your site), or only target people who performed a specific action on your page.
For example, you can create a custom audience only for visitors who triggered the "Lead" event:
Simply click "Create Audience" in the bottom right corner, and you're done!
You can now target this custom audience just as you target any other of your audiences.
Simply select this audience when you set up your Facebook ad campaign, and Facebook will optimize your ad to target all these people.
You have to create such content that appears on your audience's feed to make them stop whatever they are doing and engages them right away.
The trick to do this is a bit more complicated than just using "interesting" content. There are several factors to consider.
Click HERE to find how to create a game-changing Facebook ad for your Amazon business
Conclusion
Custom Audiences on Facebook are highly valuable assets for an Amazon seller.
In a competitive space like Amazon's, Facebook retargeting is a strategy that must be used.
These audiences can even be segmented into various groups (depending upon niches or frequency of purchases etc.) so that each group is targeted with an especially tailored ad.
In fact, don't be scared of experimenting with this audience. Target them with different ads and creatives to find out what works the best. Be innovative. The possibilities from here are endless!
If you have any queries, feel free to reach out to us.
Find more on how to increase your sales on amazon HERE.