Close Amazon Seller Account – Complete, Step-by-Step Guide, FAQs & More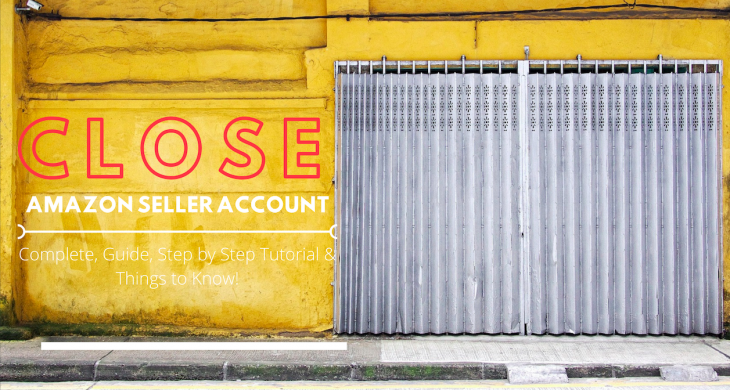 Amazon is a great platform to build an eCommerce business. With over a million new sellers joining Amazon every year, it has become the go-to place for online retailers.
However, for a number of reasons, it is not uncommon for sellers to want to close their accounts. Many sellers make the mistake of just leaving their seller accounts unattended and assume that that is the same as having properly closed their accounts.
That, however, is not the case.
So, how to close an Amazon seller account the right away?
Let me tell you everything you need to know about this process.
Close Amazon Seller Account
Things to Consider Before Closing Your Amazon Account
Shutting down your Amazon account is undoubtedly a big step. So, before you proceed, there are some things you need to keep in mind as a business owner.
Selling on Amazon can be highly profitable only if you use the most effective tools for getting to the top. 
Check out our guide for in-depth guide.
First of all, realize that there is no going back once you have completely closed your seller account. Amazon will not let you reactivate or reinstate a closed account. The only way for you to be able to sell on Amazon again would be to sign up all over again.
Secondly, keep in mind that you would no longer have access to the benefits you had as an Amazon seller. These include:
Access to account history. This means orders history, credit cards information, etc.
You would no longer be able to communicate with your buyers in any way once your account is closed. This means no processing returns, issuing refunds or responding to an Amazon A-to-z guarantee claim.
All websites (such as Audible and Amazon accounts in other markets) once accessed via your Amazon account log-in would become inaccessible after you've closed your seller account.
You would lose your customer profile completely. This means that all reviews, images or discussion posts from your customers will be removed.
Digital content related to Amazon Drive, Amazon music and Prime Photos would all become inaccessible.
You would no longer have access to any funds or balance in your seller account (for instance, remaining Amazon gift card or promotional credit balance)
Last but not least, if you're a big seller having multiple seller accounts on various Amazon marketplaces, keep in mind that closing your North American Unified Account will also result in the shutdown of your other eligible accounts as well.
Keeping in mind all these factors, we recommend creating a backup of any data or sales history that you want to preserve before closing your account.
You should also take care of any refunds, returns or guarantee claims beforehand as well. Moreover, make sure that there is no balance left in your seller account before you close it, otherwise you'll end up losing those funds for good.
Alternate Options
Like we said earlier, closing your Amazon seller account is a big step. This is why we always recommend sellers to reconsider their decision before actually going through with it.
There are a couple of ways to pause your Amazon business temporarily. Unless you plan on never returning back to Amazon, we suggest you take a look at these alternatives:
Downgrading Account
A professional seller account on Amazon costs $39.99 every month. On the other hand, an individual seller account does not have a monthly fee. As an individual Amazon seller, you just have to pay $0.99 for every item sold.
If you downgrade your professional account to an individual account, you would not have to pay any fee unless you make a sale.
This is a good option for sellers who are not able to make substantial progress on Amazon and find the monthly $39.99 an unnecessary burden on their pockets.
With an individual account, you can continue selling on Amazon as a small-scale business until you've progressed enough to become a professional-level seller.
Here's a step-by-step guide to downgrade your Amazon seller account:
After logging into your Amazon Seller Central Account, select "Account Info" from the "Settings" drop-down menu in the upper right-hand corner:
Now, click on the "Manage" button in the "Your Services" section of the page:
Click on "Downgrade":
Amazon will ask you to confirm your decision. Select "proceed" to downgrade your account:
Activating Vacation Mode
If you want to take a break from selling on Amazon, you can do so simply by activating the Vacation Mode. This will make all of your product listings inactive and customers would no longer be able to make purchases.
This does not shut down your seller account and you have to the option to reactivate your listings whenever you want.
To turn on vacation mode, go to "Account Info" in the "Settings" tab:
Click on the "Going on a vacation?" option:
Now, select the Amazon marketplace you wish to set inactive and hit "Save":
The deactivation takes effect within 24 hours. The reactivation process is also pretty simple and takes effect right away (after only 15 minutes). You can relist any inactive item whenever you want.
Keep in mind, making your listings inactive through this way will only work for listings fulfilled by you, not Amazon. Your FBA listings would continue to remain active unless you make them inactive explicitly from your inventory.
Delete Your Listings
In addition to making your listings inactive, you can also choose to delete them completely. This option is suitable for dead products. If you don't have hope for a particular product to be able to make substantial sales, it is best to delete its listing.
Again, this will not delete your seller account. It will just delete your product listings. This is also a permanent step because the listings you delete would be removed forever, i.e. you would no longer be able to make them active again.
To delete a listing, go to "Manage Inventory" under the "inventory" tab:
There will be a "Edit" drop-down menu for each one of your listings. Find the listing you want to get rid of and in its menu, select "Delete product and listing":
Selecting this option means that the deleted SKU and its sales history along with product information are all permanently removed from your seller account.
Don't forget to update the inventory quantity of the product to 0 before deleting it.
Product deletion and inventory quantity deletion are two separate things so just taking care of the former won't let you delete a listing successfully, and the offer will still remain live on the offer listing page.
Prerequisite to Deleting an Amazon Seller Account?
We've already discussed a few recommended steps before deleting your seller account.
Basically, there are 5 things you need to take care of prerequisite to closing an Amazon seller account:
Make sure you ship out all your remaining orders. In fact, it is impossible to close an Amazon account without first completing all pending orders as it is a part of the eligibility criteria that sellers have to meet in order to delete their accounts.

Take care of all outstanding issues with your buyers. This includes product returns and refunds etc.

You have to make sure that none of your buyers have claims to A-to-z guarantee. This can be ensured by waiting for a period of at least 90 days from the date of your last sale.

Empty out your Amazon account balance before deleting it. Otherwise, you would no longer be able to claim any funds that you may have lost.

Double-check your bank account details on file. This ensures that you receive your final payment timely.
How to Close your Amazon Account Permanently?
Without further ado, let's go through a step-by-step guide on how to permanently close your Amazon seller account.
First of all, go to "Account Info" under the "Settings" drop-down menu:
Now, click on "Close account" in the right-most section of the page:
Fill the required fields and hit "Send" to request Amazon to delete your seller account:
Now, you'll see this message:
Amazon will process your request and will either send you a confirmation email stating that your account has been successfully shutdown, or – if you don't meet their criteria – they will notify you of all details regarding why your account cannot be closed.
Moreover, they will also recommend you some actions to take in order to meet their eligibility criteria. If your first attempt to close your account is not successful, implement these recommended steps and request Amazon again to close your account.
Another Option: Sell Your Amazon Account to Other Amazon Sellers
Before we wrap up this post, let me share a last, very appealing alternative to deleting your Amazon seller account: sell it.
That's right, you can sell your Amazon account to other sellers and make a significant amount of money out of the deal (in a completely ToS-compliant manner).
Email [email protected] if you are interested to sell your Amazon Account.
Starting an Amazon business from scratch can be difficult, which is why entrepreneurs are always looking for shortcuts. Buying a ready-made Amazon seller account instead of creating a new one is perhaps the most popular shortcut.
All you need to calculate your business's worth is a simple formula:
Let me break this down a bit:
Monthly Net Profit – an average of monthly net profits over a 12-months period (or of 3-6 months for businesses in their high-growth phase)
Multiple – usually ranging from 20x – 40x. This number is larger for bigger, more trust-worthy business that have been around for longer periods of time. It's smaller for relatively newer businesses.
Inventory At Cost – landed cost of your inventory. This includes packaging, shipping, and everything else in between.
So, how long will it take your business to be sold?
It depends.
Some businesses are likely to be sold faster than others. It all depends upon your account type and your niche. For example, buyers are reluctant to buy into competitive niches. Similarly, long-term selling accounts are likely to be more in-demand than short-term ones.
Final Thoughts
If you went through the full post, you now know of all possible ways to close your Amazon account (both temporarily and permanently).
Unless you're absolutely sure about completely shutting down your seller account, it's best to opt for the safer, temporary options.
However, if you really do want to delete your account, we suggest try selling it first. You should be able to get at least $500 from the deal.
So, got questions? Comment down below, and we'll answer them right away!
Check out our blog for all the insights into advertising your business successfully.