Every Amazon Seller Needs Pixelfy — Here's why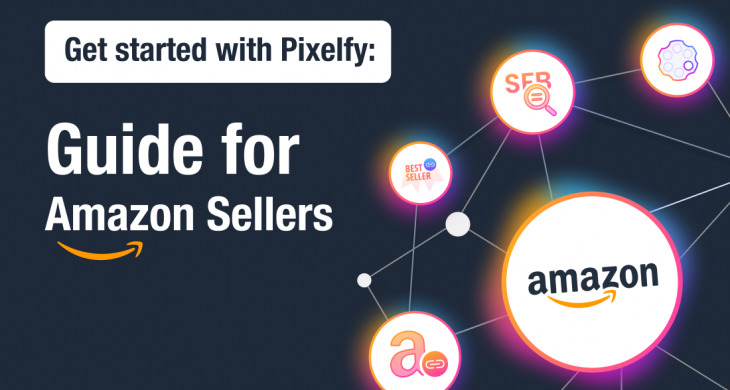 Selling on Amazon can be highly profitable only if you use the most effective tools for getting to the top.
At Pixelfy, we've seen many different ways our Amazon sellers have applied — and benefited from using keyword embedded URLs and advanced URL features. That's why we decided to come up with a detailed guide to help you maximize your use of Pixelfy and taste our secret sauce for Amazon sellers.
Without further ado, let's show you around.
Hi, We're Pixelfy!
For starters, we'd like to say hello and introduce you to our link management world. Unlike other URL platforms, we go way beyond just link shortening. Our main focus is helping Amazon sellers maximize their selling potential using keyword embedded URLs, advanced statistics, and powerful link features.
We like to go the extra mile when it comes to our services, so, we're the only link software that provides Amazon sellers a wide range of Super URLs designed to achieve very specific outcomes.
From simply converting your long links to short ones, to performing A/B tests, or embedding retargeting pixels in every one of your links — we can do it all!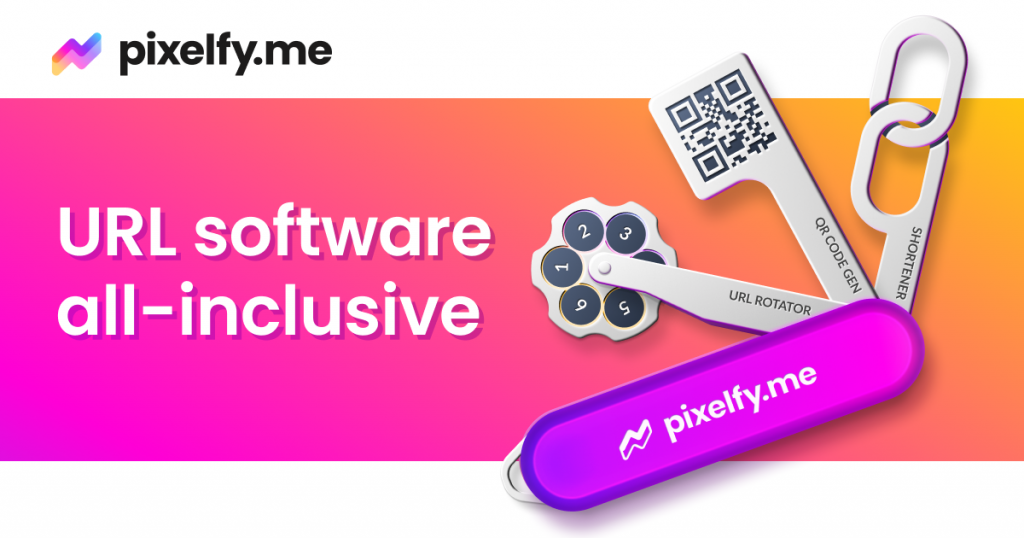 Your Pixelfy subscription covers all your (**DEEP BREATH**):
URL Shortening needs (even Bulk Link Shortening)
Link Management (even broken link management)
Custom Domain Essentials
Branded Links creation and customization
Mobile Deep Linking
Amazon Ranking
Ad Campaign Management
Link and Clicks Analysis
Customer Retargeting
Link Redirects
Amazon-specific Landing Pages
Pixelfy does everything the other tools do, plus a ton of unique features that none of the others do (at least not as well).
Pixelfy as a URL Shortener
Whenever you're planning on sharing a link you can always consider Pixelfy to make it more attractive. Pixelfy takes any of your long URLs (which can be over a hundred characters long) and transforms them into beautiful and engaging links (with a length that never exceeds 20 characters).
What makes it amazing is that you can brand each link you shorten with a keyword of your choice. This will not only inspire trust in your customers but also make your link more appealing and easy to remember.
Pixelfy as an Amazon Rank Booster
Your Amazon brand has to get to the top … and we want to be the ladder that takes you up there! That's why we offer you the Top 3 best keyword embedded Super URLs to help boost your product ranking and give you a competitive edge.
Supreme 3.0 — this tool mimics the organic keyword searches generated from outside traffic like search engines and helps you rank crazy fast for a minimum budget.
Basically, this Super URL works by leading your customers straight to your Amazon ASIN and ranks your product for any keywords you want.
What makes this amazing is its powerful formula that imitates search engine traffic and helps improve your rankings up to 10 times better than any other link.
Supreme 2.0 —another 2-Step URL that provides incredible ranking results. It requires customers to head to the search results before clicking into your listing directly. This URL is effective for this very reason – it requires exactly two steps that mimic an organic purchase, thus, helping you rank higher in search results.
Ranked as one of the most popular and time-tested tools on our platform, it guarantees positive ranking results despite Amazon's changes.
Search Find Buy Seeker URL — one of the most effective ways to drive organic traffic by prompting customers to find your product in a series of simple steps. As the name suggests, it directs shoppers to search, find, and buy your product, which will be considered organic traffic by Amazon.

Pixelfy as a URL Management Tool
Pixelfy not only allows you to create branded URLs but also saves your time on data analysis.
Each Pixelfy URL you create comes with detailed statistics so you can track anyone who clicks on your link in real-time. See what traffic source or ad campaign is driving the best results, and gain insights into different market metrics all from one single dashboard.
With each tracking link you create, Pixelfy can provide you with the following data:
Unique clicks versus the total clicks
Clicks by geographic location
Organic share clicks
Clicks by city/region
Top-performing links
Top clicks by browser type
Clicks by device type (computer or mobile device)
Clicks per destination URL (if you use the URL Rotator)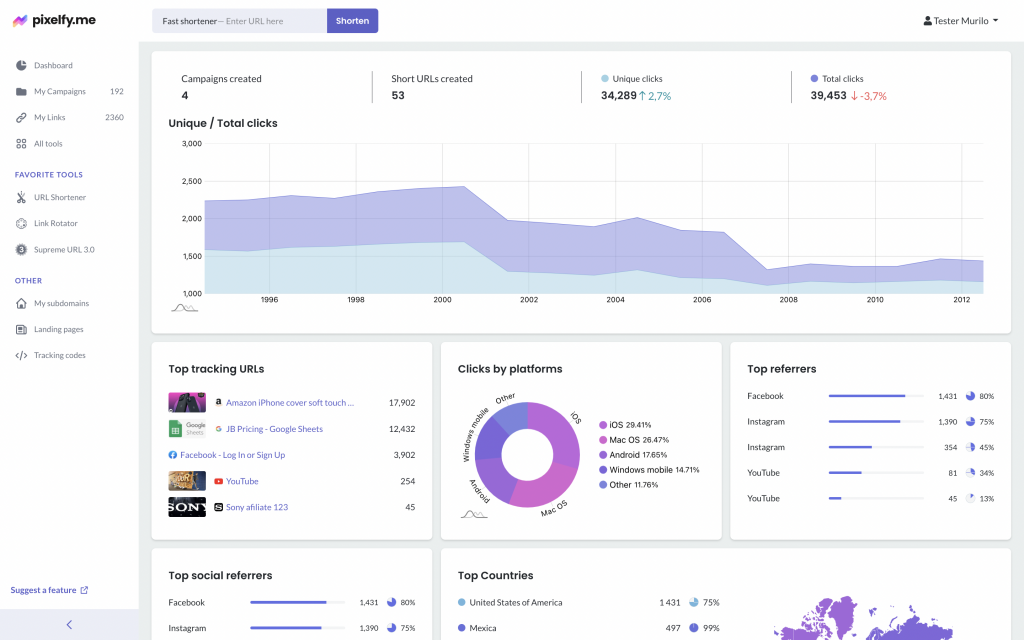 In addition to this, you can also rotate up to multiple URLs for more natural traffic patterns using just one link!
Our URL Rotator allows you to create a campaign and test up to 50 potential links at once. By doing this, you could run A/B tests, promote multiple keywords at once, combine links, or just randomize your Super URLs to see which of your campaigns (links) has a better performance so you can make the most of your conversions.
Pixelfy as a Retargeting Platform
It can also make a huge impact on your sales if you use Pixelfy's retargeting tools in your Amazon advertising.
Imagine you run a Facebook campaign. With Pixelfy, you can 'pixel' all the traffic you previously sent to Amazon (or elsewhere) and retarget it with another ad or offer. Also, you can collect the data behind the traffic, e.g. demographics, locations, operating systems, etc.
The advantage of embedding a pixel into your link is that, after a customer visits or takes action on your website, you can reach them again with targeted ads.
You can use these ads later on Facebook, Twitter, Google, LinkedIn, or anywhere you want to advertise your product. This helps make a great difference in your Amazon transactions because you can retarget the interested users without using Amazon's own campaigns.
Did you know: Facebook retargeting ads are one of the most effective advertising techniques for Amazon.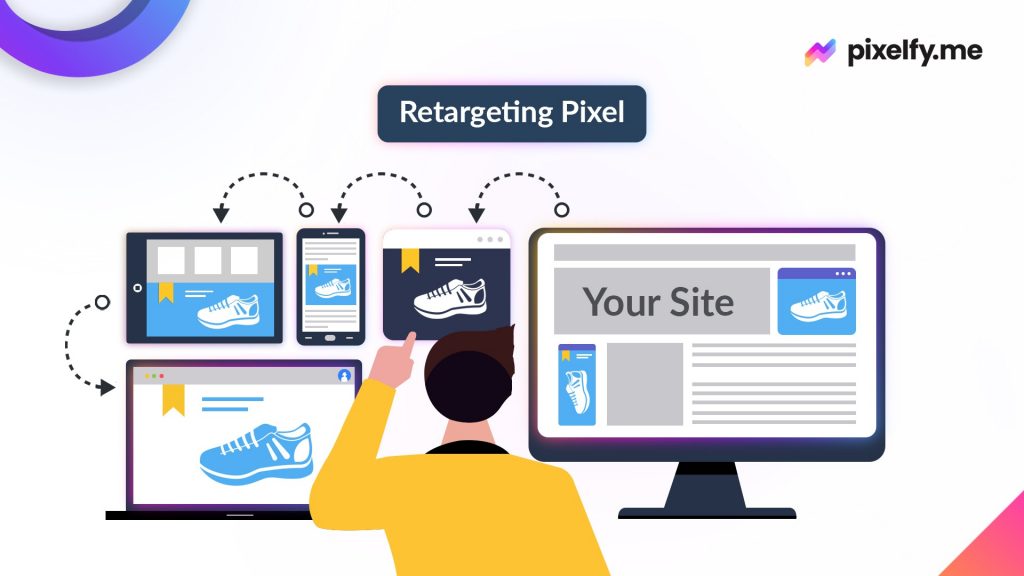 The best part is that you can embed multiple retargeting codes into each tracking link you create with Pixelfy. Once traffic has been sent through your link, you can easily view the data on the clock source, such as the number of clicks, location, and browser type.
Retargeting these customers has a higher chance of getting their attention and may even yield better conversion rates.

Pixelfy as an Amazon Super URL Generator
Because we want you to become the next bestseller and spice up your listing, we also offer a few Super URLs to help you earn all Amazon's nifty badges:
Add to Cart URL — If you want to increase your chances of landing the coveted Amazon's Choice badge, this Super URL can help increase your odds. Conversions generated through this URL give Amazon the impression that the purchase originated from Amazon Alexa. With enough purchases, this increases your probability of earning the 'Amazon Choice' badge, often leading to increased organic sales.
Buy Together URL — With this type of link, you can control the "Frequently Bought Together" section on Amazon's product page. It allows you to send traffic to a button that lets shoppers add two items to their shopping cart. With more purchases, the specific item will show up in the "Frequently Bought Together" section.
Best Seller URL — Let's face it, who doesn't like to have Amazon's Bestseller Badge? Knowing this, we created the Best Seller URL to significantly increase your chances of getting the badge. Think of this type of URL as the ultimate solution for getting closer to being a Best Seller.
Pixelfy as a QR Code Builder
With Pixelfy, it's now easier than ever to use URLs to engage not only online customers, but also offline ones. You can automatically generate unique QR Codes for every single tracking link you create.
Create a tracking link, generate a QR Code, and use it in your marketing inserts so you can track clicks and views, and even tag any traffic that you've sent to a landing page or ManyChat funnel.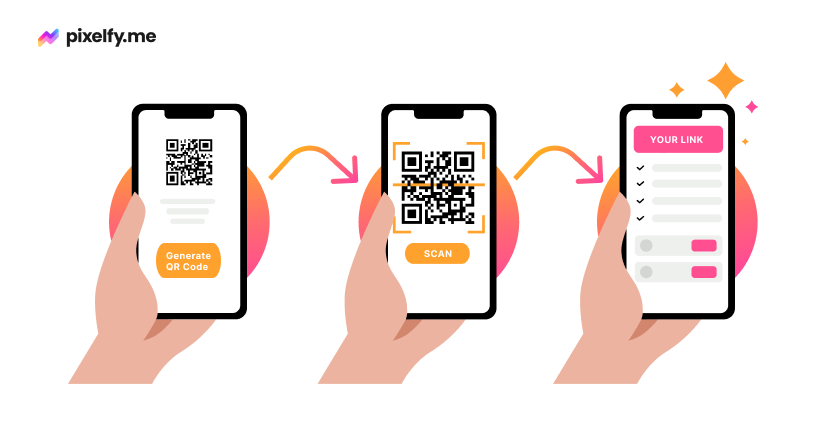 Pixelfy as an All-In-One Link Software
One more thing! Probably the best thing about Pixelfy is that it offers you full link customization. This means you have full control over all your tracking links:
Set up custom expiration dates — it's totally up to you to decide when your branded URL will expire. You can set up a different date limit or a click limit after which the link will expire. Or, you can let it run forever – without any expiration date.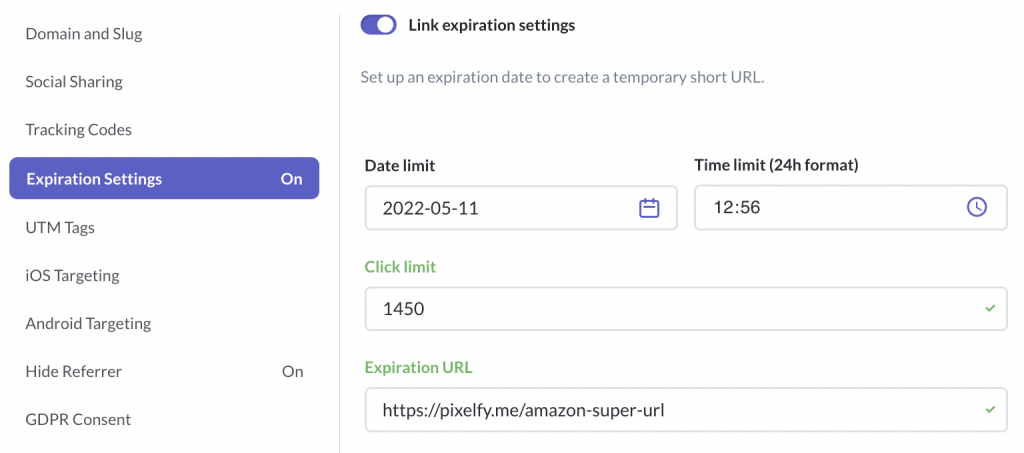 Hide referer — you can easily replace the original referrer URL with your short link so that the destination owner cannot determine the source of the traffic.
Enable mobile deep linking — you can also use Pixelfy for deep linking. This feature is extremely useful when it comes to improving the user experience of shoppers or site visitors who access your product site from their mobile devices.
When enabled, this feature allows the link to be opened in the mobile app (if installed), or directly in the browser.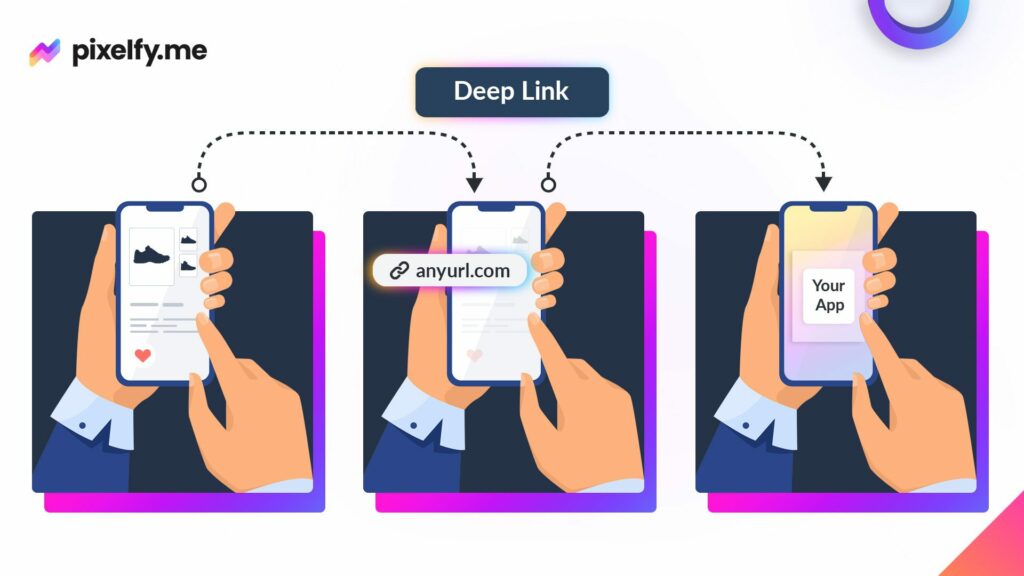 Wrapping Things Up…
Pixelfy works in a pretty straightforward fashion. Here's a rundown of how to maximize your results using our software:
Grab the Amazon URL you want to shorten and retarget
Select the type of tracking link you want to create and configure it
Add a tracking code
Enable/disable deep linking
Set custom expiration settings
Complete your social sharing options (Title, description, image)
Share your shortened link on various social media platforms
Track each click on your link in real-time
Reach out to users who have clicked your URL using retargeting on your ad campaigns
By tracking each of your links in real-time, Pixelfy allows you to re-engage potential customers, optimize your advertising campaign performance, and ultimately boost your Amazon rankings.
We could say: "That's all folks", but there's so much more to each tool you can use to maximize your Amazon sales and save time handling your business. We're sure you'll love our all-in-one URL software that handles nearly all your marketing needs.
Check out our blog for more insights on making your business successful.
Good luck on your selling journey!